Summer Series - Race 5
Published 10:41 on 17 Jul 2022
Course 3,7,1,3,2,3,2
Wind Direction - ENE 10 knots
Race Officer - Malcom Mackley.
HANDICAP -
Three Aero 7s took to the start line for race 5 in the Summer Series which provided wind, sun and a spring low tide.
Tim Fells wasted no time in taking an early lead straight off the start line from Simon Ballantine and Geoffey Cox, by the time the small group reached the ferry landing the positions for the afternoon were set. Surely the only question now, how much would Tim win by??
As the trio made their way round the course Tim extended his lead over Simon as Simon equally extended his lead over Geoffey.
In the end Tim comfortably took victory by nearly 4 minutes over Simon in 2nd and Geoffey in 3rd.
YAWLS -
There were Six Yawls out for race 5 made up of 3 red fleet and 3 blue fleet boats.
Dan Bridger and Stephen Galvin got off to the best start and took the early lead rounding Crossways first just ahead of Ross Borne and John Burn.
Dan and Stephen managed to hold on to the lead until around Saltstone where they were caught and passed by Ross and John who now found themselves leading the race.
Ross and John led the long leg back to Blackstone and had managed to build themselves a slight gap but by the time they had reached mark 1 Dan and Stephen had closed right back up to their transom.
A close fought battle ensued on the beat back to Crossways which saw Dan and Stephen getting the better of Ross and John to re-take the lead.
Whilst the front two were busy matching racing their way round the course Andy and Elizabeth Savell had quietly closed up and joined the party sailing themselves in to second position as they rounded Millbay.
Dan and Stephen still led the fleet on the beat back to Crossways for the final time but Some clever boat positioning from Andy and Elizabeth saw them sail Dan and Stephen passed the mark causing them to have to loop back round and therefore giving up the lead.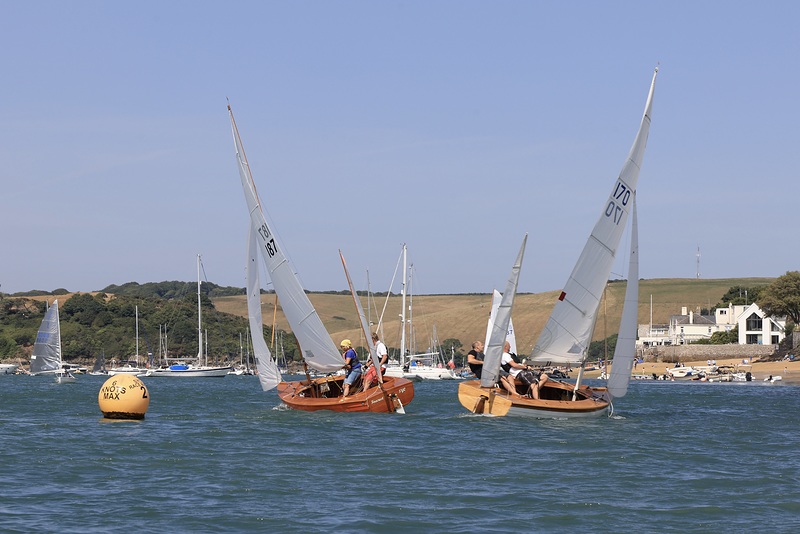 Andy and Elizabeth were now leading and with a superb turn of speed on the final run left the two chasing boats in their wake. They sailed on to take the victory in a close fought race where the lead changed a total of 4 times between the front three boats.
Meanwhile the fight for second continued, Ross and John had just squeezed back passed Dan and Stephen on the final run and rounded Millbay ahead. The short beat to the finish line had the two boats battling closely……..again. Dan and Stephen headed towards Smalls where they picked up an almighty lift that now had them sailing parallel with the beach and straight for the line. Unfortunately for them it wasnt enough though to get passed Ross and John who held them off to take 2nd with Dan and Stephen having to settle for 3rd.