Solo Nationals Hayling Island. Tim Law and Mike Hicks: 1st and 2nd Grand Masters.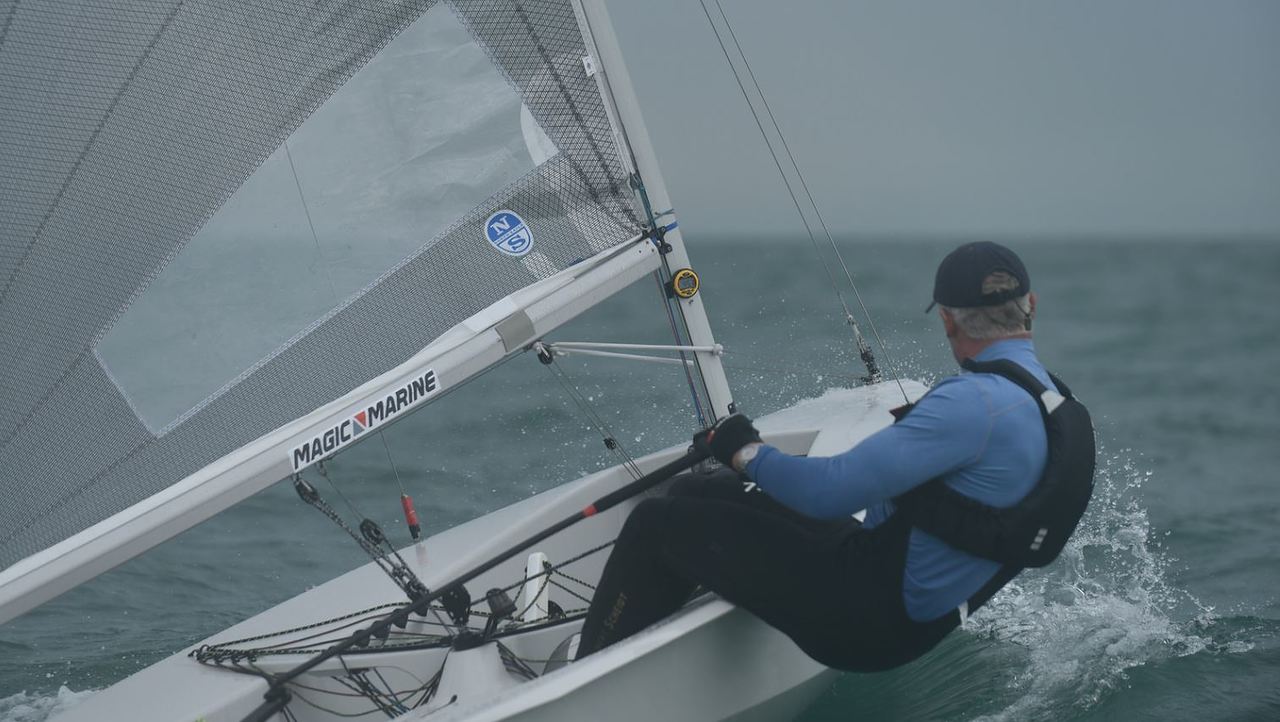 Published 13:56 on 29 Jul 2018
Photo Credit: Errol Edwards. Here Tim is pictured working his Solo to windward. Hayling Island Sailing Club Nationals 2018.
Of the one hundred and four entrants* to the Solo Nationals at Hayling Island, five were from Salcombe Yacht Club. These comprised Tim Law, Mike Hicks, Iain McGregor, Roger Lumby and Graham Cranford Smith.
Until the last day, Tim was in the chair to claim second place overall. An unlucky thirty degree left hand shift in the penultimate race did for this ambition. Tim eventually finished third behind Charlie Cumbley and Pete Mitchell both of whom, North Sails works drivers. The scale of Tim's achievement is truly remarkable especially as he beat many in the top thirty or so, half his age. It reinforces the truism: class is permanent while form is temporary.
Attaining a similar pinnacle was Mike Hicks, who finished ninth; also incredibly impressive. By these means Tim and Mike were first and second Grand Masters.
The others named above from Salcombe, made up the numbers. Notably Iain McGregor joined Cranford Smith in the: "SYC Three Black Flag Club" originally founded by Cranford Smith at Royal Torbay Yacht Club in 2017. The dichotomy of the week was the choice been starting in the front rank and risking a BFD or hiding which usually resulted in one being rolled at the start. Whatever, this is not excellent for any respectable series result; some of our number, fell to despondency as the week progressed once the reality of mediocrity became clear. So here with apologies to the late great Bill Shankly, it seemed fair to reflect with others in the course of the week:
"Some people believe sailing is a matter of life and death, I am very disappointed with that attitude. I can assure you it is much, much more important than that."
From those of us who had a less than stellar regatta (again) our sincere thanks particularly to Tim, and Mike, for their very kind consideration to those of us who were not troubling the scorers, despite level best efforts.
Our collective thanks also to the teams at HISC who made for such a great sailing week; the National Solo Class Association and Magic Marine, who also happened to co-sponsor Merlin Week.
Graham Cranford Smith

Solo 5755.
*Correct. That is: one hundred and four Solos. Given this is 2018 and Jack Holt penned the Solo design in 1956, this statistic is quite excellent. Were Jack alive today, he would certainly be astonished that his little Solo remains such a vibrant class. It continues to bring enormous enjoyment to all of us who race it. This is wholly due to the efforts of the National Solo Class Association committees, past and present.
Even if you do not race away, your membership of the Solo Association (or for that matter, the class association of whatever you do sail) will continue to assure the value of your boat. They deserve your support.
https://www.solosailing.org.uk...
Last updated 14:05 on 19 May 2021